An AIGC startup focused on virtual social connections sought to bridge the gap between the virtual and real worlds. Leveraging open-source Stable Diffusion, their platform specializes in anime character creation, providing an all-in-one service for AI illustration, image search, and social sharing.
Databend Cloud offers an easy-to-use, efficient, and cost-effective big data processing solution. By using Databend Cloud for analytics, the startup reduced their user behavior log analysis costs to 1% of their previous solution.
Business Requirements​
To generate satisfactory anime characters on the platform, several interactive steps are involved - model selection, prompt writing, work optimization, and more. For specific needs, functionality like image uploads and editing may also be required.
As a social product, user retention and behavior is a priority. AIGC products especially emphasize interactive experiences. To better understand user habits and further improve experiences and optimize the website and apps, the platform needed to collect user behavior logs via tracking and analyze them, ultimately creating dashboards and charts.
The user behavior and root cause analyses required complex queries and advanced visualizations. Purchasing proprietary software would cost at least thousands of dollars per month. With nearly 10 million total visits, the platform's monthly log scale reached 100s of millions, with ever-growing data and cost needs.
Balancing high-quality insights while reducing costs became an important issue.
Introducing Databend Cloud​
Databend Cloud is an easy-to-use, low-cost, high-performance next-gen big data analytics platform built on the open-source cloud-native data warehouse project Databend. It provides a one-stop SaaS service with out-of-the-box usage.
Inheriting all the advantages of Databend, like instant scaling, it can handle complex analysis at low cost, helping businesses gain accurate and economical insights to inform strategies.
Databend Cloud Key Features
High Performance, Low Cost: Designed for object storage with columnar storage, vectorized query processing, and pull/push data scheduling, Databend Cloud squeezes max performance from the database engine, reducing costs by 80% compared to traditional solutions.
Semi-Structured Data Support: Databend Cloud allows importing data from CSV, JSON, or Parquet files and executing aggregate queries on JSON data and other complex data types.
Enterprise-Level Security: Databend Cloud uses multiple methods to protect data including permissions, role-based access control (RBAC), and file-level encryption. It supports private storage services for further security and compliance.
Easy to Use, Robust Ecosystem: Users only need to load data into Databend Cloud to get a full SQL data warehouse and robust ecosystem support, with everything at their fingertips. It easily integrates dozens of ecosystem partners into tailored data workflows.
Technical Implementation​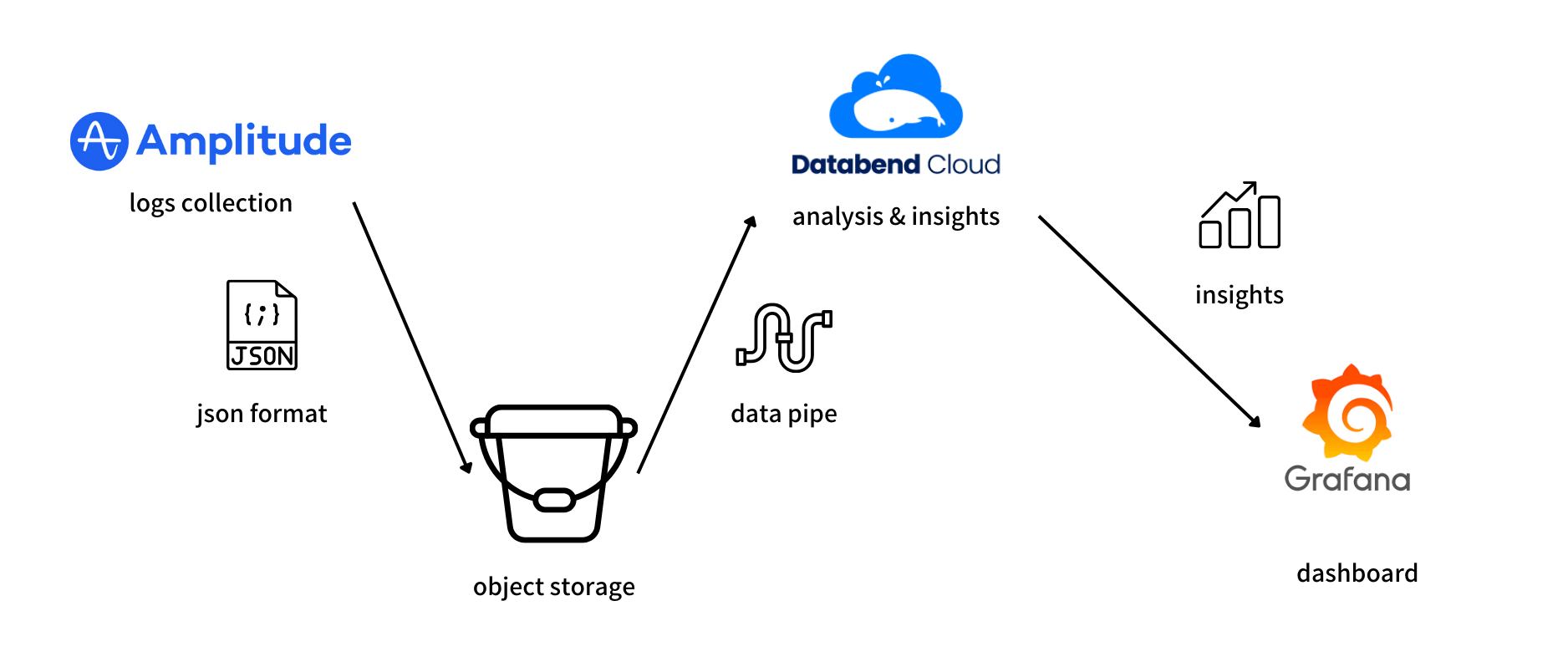 User logs collected by Amplitude are regularly exported in JSON format to the startup's AWS S3 object storage.
Data is now imported to Databend Cloud through pipelines.
Queries are executed in Databend Cloud to analyze user behavior and root causes.
Results are aggregated in Grafana as analytical charts and dashboards to inform further decisions.
Summary​
Databend Cloud did an excellent job assisting with user behavior analysis and providing insights into root causes.
Monthly analysis and dashboard costs dropped by 100x.
Raw data is stored in the customer's own object storage for further compliance check.
Databend Cloud's excellent capacities for handling semi-structured data and complex queries perfectly matched the customer's business requirements and facilitated the migration of their analytics jobs to Databend Cloud.